Batteries Plus Bulbs
Location & Contact:
609 S Knik-Goose Bay Rd
Wasilla
,
AK
99654
907-376-1181
View our Website
View our Facebook page
View our Twitter page
View our Google+ page
Description:
Batteries Plus Bulbs
At Batteries Plus Bulbs, you'll find everything you need. With locations in 46 states and Puerto Rico, we offer personal service along with access to over 45,000 unique battery and light bulb products. Batteries Plus Bulbs has become the single-source supplier for all battery and light bulb power needs.
Call or visit your local Batteries Plus or Batteries Plus Bulbs store to learn more about how we can help you at home or at your business.
Reliable Brands
Batteries Plus Bulbs has chosen a select number of reputable manufacturers to partner with to best serve our customers' needs. A few of the high quality brands are listed below.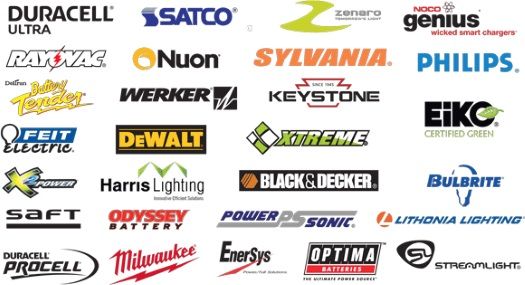 Hours:
Monday: 8:00 am - 8:00 pm
Tuesday: 8:00 am - 8:00 pm
Wednesday: 8:00 am - 8:00 pm
Thursday: 8:00 am - 8:00 pm
Friday: 8:00 am - 8:00 pm
Saturday: 8:00 am - 8:00 pm
Sunday: 10:00 am - 5:00 pm
Payment Options:
Cash, Visa, MasterCard, Discover
Report incorrect information