Tan Alaska - Premier Tan & Tubbing in Wasilla, Alaska
Location & Contact:
321 W. Parks Hwy., Suite 101
Wasilla
,
Alaska
99654
907-373-5565
Email Us
View our Website
View our Facebook page
View our Tubbing Page
View our FAQs Page
Description:
Tan Alaska - Alaska's Premier Tan & Tubbing Salon

Located in the Frontier Mall in Wasilla.
We are Open late, 7 days a week.
We offer an array of premier tanning and Swedish package services for Members and Non-Members. Walk ins always welcome! We also carry a great line of designer skin products and lotions. We offer Cal-Tan bed tanning, sunless airbrush tanning, Private Hot Tub Rooms and Twilight Teeth Services.
We use Cal-Tan high quality beds, in levels one through 4.
Call us to book an appointment and learn about our packages, or
visit us online at www.tanalaska.com
or on
www.facebook.com/tanalaska
Become a Tan Alaska Member
Tan Alaska offers a great value and great services for member and nonmembers, but if you like to tan often, and save money, our membership benefits will not disappoint you!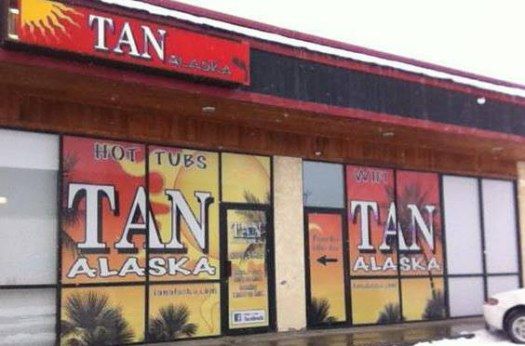 Membership Tanning & Levels - Member vs. Non-Member Pricing

One: $25 vs. $49 - Members save $24
Two: $49 vs. $79 - Members save $30
Three: $59 vs. $89 - Members save $30
Four: $79 vs. $99 - Members save $20


Member Benefits

50% Off Unlimited Tans
20% Off Lotion Bottles
1/2 Hour Free per Hot Tub Session
20% Off Lotion Packets
$30 Twilight Teeth ($9 savings)
Free Tan with every Spray Tan



View our specials here or call us for Level Pricing and packages!

We offer competitive pricing in a variety of options to fit every budget and every client. Membership requires a 4 month commitment to a Tanning package at any level (1-4).

Buy 1 Unlimited Package Deal and get a 2nd Package Half Off. That's right BOGO 1/2 OFF tanning! The Bogo deal fine print: Packages are not transferable and expire one year after purchase.

Hours:
Monday: 9:30am to 9:30pm
Tuesday: 9:30am to 9:30pm
Wednesday: 9:30am to 9:30pm
Thursday: 9:30am to 9:30pm
Friday: 9:30am to 9:30pm
Saturday: 9:30am to 9:30pm
Sunday: 12:00 to 9:30pm
Payment Options:
Cash, Visa, MasterCard
Report incorrect information