Boys and Girls Club
Location & Contact:
3700 East Bogard Road
Wasilla
,
AK
99654
907-357-2582
Email Us
View our Website
Description:
Boys and Girls Club
Respected and recognized as Alaska's leader in youth
development.




To empower and inspire the diverse youth of Alaska to realize
their full potential by offering them hope, opportunity, and a safe
environment.





FAQ's:
Clubhouse Fee - The membership is for one calendar year, and costs $40. Youth ages 7 - 18 are eligible to become members.

Open Campus - Open Campus policy is a statewide policy. Your child may walk out the door any time, regardless of age. We choose to keep them motivated and excited without wanting to leave. Some managers do call parents when a "younger" child leaves the building.





Early Bird - Some Clubhouses offer an "Early Bird" program, for an additional $50 per week, where a child may be dropped off as early as 7 AM. In the summer, Early Bird program is from 7 - 11 AM, and during the school year from 7 AM to school drop off which is included in the price.

Scholarships - Northeast Community Center and Mountain View Community Center are completely free. Some clubhouses will scholarship on a need basis.

Programs With Your Child - You may choose to volunteer in the clubhouse as a parent. All volunteers must fill out an application and consent to a background check.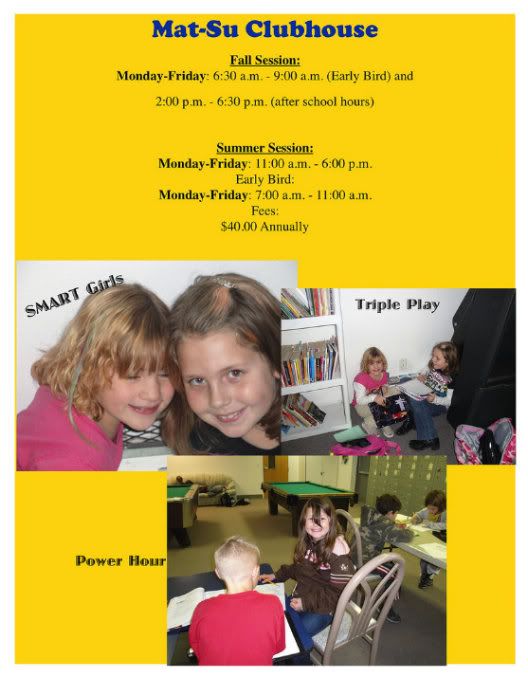 Hours:
Monday: 7:00am - 6:30pm
Tuesday: 7:00am - 6:30pm
Wednesday: 7:00am - 6:30pm
Thursday: 7:00am - 6:30pm
Friday: 7:00am - 6:30pm
Saturday:
Sunday:
Report incorrect information