Bogard Logistics
Location & Contact:
4721 East Bogard Road
Wasilla
,
AK
99654
907-357-9455
View our Website
View our Facebook page
Description:
Bogard Logistics
A Subsidiary of United Operations, LLC
Why pay for unused warehouse space and labor?
Pay for warehouse space and labor as you use it.
Great businesses and customer experiences are each crafted one at a time. We created Bogard Logistics to bring Alaskans custom public warehouse and material handling solutions found across the globe but rarely in the Arctic. It does not matter the size of your business, now you can enjoy the flexibility and focus found in this warehouse model. We custom design it for you. In good times and bad, public warehousing helps you capture opportunity with less capital and shorter rent commitments.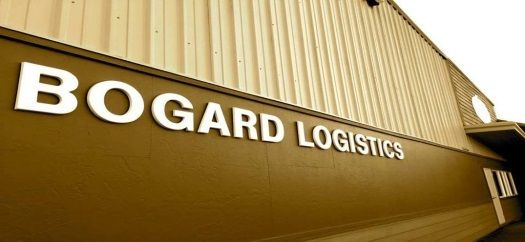 At Bogard, we get that no two companies are the same. Our team works to learn your priorities and pain first. The Arctic supply chain breaks easy. Errors, damage, delays, and high transport costs are common. Let us help you learn new ways to reduce these costs and strengthen your supply chain. Our Bogard team works with you and your people to learn your processes. After discovery, we offer ideas to create a solution that meets your needs. Whether we drive profit or reduce your material expense, the Bogard team helps define new ways to communicate and demonstrate value. Our results prove out. We remove the noise and extra costs found in most supply chains. Bogard Logistics excels where people, processes, and systems meet.
Our team sets high standards for safety and service ideals. We work to differentiate ourselves, drive accountability and to make sure our team delivers value. We bring over 50 years of experience to help you save money by only paying for space and labor as you need them. We also provide solutions to help you easily communicate with your biggest customers automatically. Our Valley location is just 8 minutes from Wasilla, Palmer and Mat-su Regional Hospital, and close to most Mat-Su businesses. Why pay more?
Experience the Convenience, Quality, Service, Value, & Transparency of Bogard Logistics.
Your dedicated partner for material tracking, inventory management, operating work flow and custom communication solutions.
TYPICAL CUSTOMERS:
Operate Anchorage or MatSu warehouses
Need consolidation, cross dock and freight forwarding activities
Have seasonal space demands
Perform project receipt, staging and materials management
Need or want to outsource warehouse and distribution duties and responsibilities
OTHER SERVICES:
Labor only services for your temporary project work
Performance and process consulting
Expense management and financial reviews
Treasury management solutions
Project finance
Corporate advisory
Restructure and work-out
Report incorrect information