Heat Source Mechanical
Location & Contact:
7362 W Parks Hwy #723
Wasilla
,
AK
99654
907-376-4130
Email Us
View our Website
Description:
COMPLETE HEATING SYSTEMS FOR:
Residential | Commercial | New Construction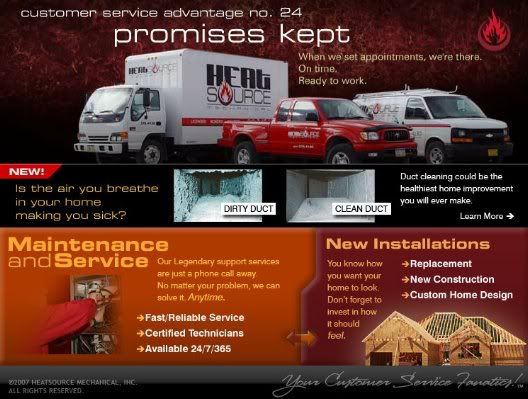 WE SELL, SERVICE & INSTALL THE FOLLOWING:
High Efficiency Furnaces
Garage Heaters
Gas Lines
Ventilation
Tankless Water Heaters
Indoor Air Quality products
High Efficiency Boilers
Filters
Gas Fireplaces
Natural Gas Conversions
Air Conditioning Systems
Oil Fired Forced Air Furnaces & Boilers
Furnace Surge Protectors
Freeze Alarms
In-Duct Smoke Detectors
WE NOW OFFER DUCT CLEANING:
Duct Cleaning could be the healthiest home improvement you will ever make. STOP breathing your household mold, pollen, and dust mites! Find more information about our Duct Cleaning service.
Report incorrect information